We desire to see children developing a passion to know, love and follow Christ by discovering Him and his intimate love for them through worship, teaching and play. We will equip parents and resource volunteers to be able to confidently teach and nurture children in the Christian faith at home and in the Children's ministries at Christ Church.
Christ Church's nursery serves our youngest children, infant to preschool. These tender little ones are cared for by highly trained and caring nursery workers who teach a Gospel centered curriculum with care and grace.
Sunday Check In: If you have Nursery Age Children (infant through preschool) please come to the Nursery Check-In Station located in the office foyer on the west side of the building. A volunteer will assist parents in registering their family so that a security tag can be printed out for young children along with a matching pick up tag for the parents.
Gospel conversations, warm community, laughter, and true discipleship are happening every week at Kids' Quest, our Sunday morning program at both the 9am and 11am services for elementary age children. These kids are led by dedicated volunteers in The Gospel Project for Kids curriculum, where they grow in their understanding of the Bible and learn all about God's plan to rescue us through his Son, Jesus. Once dismissed from Sunday morning service, Kids' Quest kids follow the cross to their own special space and are brought back to sit with their family during Passing of the Peace. 
Sunday: If you have Elementary children, please visit the office foyer and fill out a "New Family Registration Form." This will allow us to have your contact information during "Kids' Quest" time. Elementary children will begin the service with their parents in the sanctuary until they are released by our worship pastor to follow the cross with screened and trained adult volunteers who will lead them to their age appropriate classrooms during the sermon and prayers. Children will then be returned back to their parents during the "Passing of the Peace."
Our children's ministry volunteers are devoted to investing in your children with love, grace, and the truth of God's word. We are adding to our childcare team, please email [email protected] to learn more about joining us!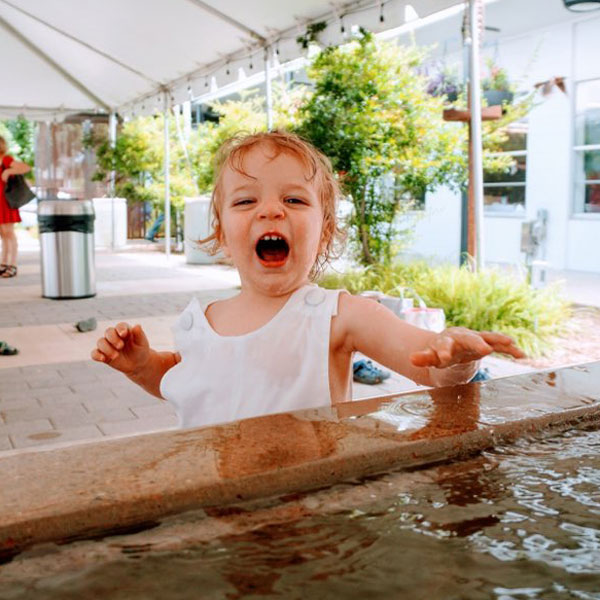 Olivia serves as Children's Ministry Team Leader where she gives oversight, supervision and support to the team that ministers to children from infant to 5th grade. She envisions and supports the ways the church can nurture and teach children in the faith by helping them discover Christ and his intimate love for them through worship, teaching and play. She acts as liaison between the Children's Ministry and Christ Church staff, championing the needs of the youngest in our community. Christ Church is continually blessed by her unique perspective, creativity, and love of children.
Olivia has years of experience nurturing and teaching both children and parents. She has served on the DriveFaithHome.com leadership team, producing resources to help churches equip parents to guide children in the home. Olivia co-hosts the It Starts at Home parenting curriculum and is author of The Minivan Years and Playstation Nation. Olivia is married to Kurt Bruner and together they have four grown children, two younger children still in the nest, and a growing number of grandchildren. Olivia and her family have been a part of our parish since moving to Austin in 2020. She has served as a volunteer in the children's ministry since 2021.
To contact our Children's Ministry team with any questions or concerns please email [email protected].